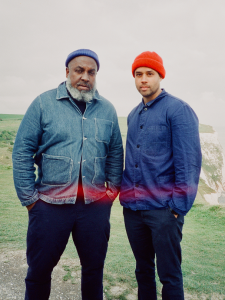 SOLD OUT To be added to the waiting list please email grace.davies@keap.org.uk with your name, the event you wish to attend, and your phone number. 

Monday 6 February
7.00pm
The Writers' Block, Redruth, 2-4 Clinton Road, TR15 2QE
What is it like to be black in Britain today, particularly if you live outside of the urban, metropolitan centres?
Acclaimed poet Roger Robinson and award-winning author and photographer Johny Pitts have joined forces to explore this issue in their stunning new book, Home Is Not A Place. Featuring photographs, poetry and essays, it is a visual poem reflecting on the complexity, strength and resilience of Black Britain. In their journey around the UK, the writers uncover hidden stories of black people living in the unlikeliest of places, from rundown seaside resorts to rural beach locations. Come and hear these tales, which echo across centuries of the black experience, transforming and illuminating the history of Britain.
Angeline Morrison is a singer, multi-instrumentalist and songwriter who explores traditional song with a deep love, respect and curiosity. The Sorrow Songs: Folk Songs of Black British Experience is a work of re-storying Black British experience.
Join us for an evening of discussion, story-telling, photography and music.
Co-produced by Speaking Volumes, Sprung Sultan and Coastal Carolina University