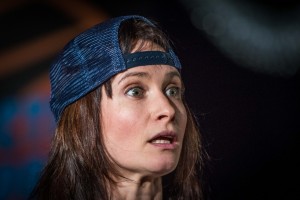 Wednesday 8 March
6.30-8.30pm
The Writers' Block, Redruth
Join us for a evening masterclass with Owdyado Theatre on how they give giving bite, action, a reason to read on in their Twisted Tales storytelling.
Charlotte studied English Literature and Theatre Studies at Lancaster University before going on to train as an actor at the Royal Welsh College of Music and Drama. In 2008 she got her first professional touring job with Miracle Theatre in Cornwall where she met Dan. A year later 'Owdyado Theatre was born. Charlotte has co-written, produced and acted in all 'Owdyado shows to date including About A Bench, Wrongdoings and Wake Up Calls at the Stop-Off Motel, Above Bored, A View from the Edge, Twisted Tales Vol.1 and Twisted Tales Vol.2 and Twisted Christmas. Charlotte also works as a freelance actor and has performed with many other Cornwall-based companies including Hall For Cornwall, (Behind the Postcard) Miracle Theatre (Sleeping Beauty, Jason), Trebiggan Productions (Cider with Rosie), Collective Arts (The Trench 2016 & 2018 ) and The Eden Project.
Dan began his professional theatre career working as a technician with Miracle Theatre during their Jason production. After meeting Charlotte and forming 'Owdyado, Dan went on to co write, produce and act in all of 'Owdyado's subsequent productions. He has also directed Twisted Tales Outdoors and Twisted Christmas for the company. Also a freelance actor, Dan has performed in many shows for Miracle Theatre, including Star Crazy, A Perfect World, The Cherry Orchard, Tartuffe and Cat's Cradle as well as working with Trebiggan Productions (Cider with Rosie), Collective Arts (The Trench 2016) and cube theatre (The Crucible). Dan is also the co-founder of Near-ta Theatre, most well-known for their cult seasonal production Christmas. Time. which is now in its thirteenth year!