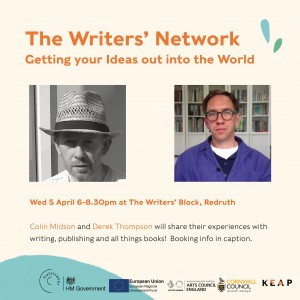 Wed 5 April 6-8.30pm at The Writers' Block, The Ladder, 2-4 
Clinton Road, Redruth TR15 2QE
Following on from the hugely successful first two events you are invited to the third Writers' Network workshop.
Colin Midson and Derek Thompson will share their experiences with writing, publishing and all things books. Colin Midson is the founder of the Falmouth Book Festival, former commissioning editor (Simon & Schuster), and freelance book publicist (currently under contract with Granta). Derek Thompson is a serial author who is published by Joffe Books.
We will also have a discussion around the future of The Writers' Network. What can you offer?  What do you need? How often should you meet?
This is a free event but needs to be booked in advance.  
Tea and cake available. Dress up warm!