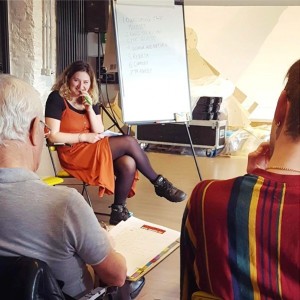 Sunday 12 November 10-1pm
The Writers' Block, The Ladder, 2-4 Clinton Road, Redruth, Tr15 2QE
Free | 16-24
Start your Sunday morning with some writing! This workshop is for young people aged 16 - 24, who are interested in playwriting in any capacity; they may have written plays before, they may have never written but been interested, or may have written with other forms but want to start plays. If you like writing, come along! 
Within the workshop there'll be lots of opportunities to put pen to paper through writing exercises, and we will also explore character building, writing from experience and specifically around playwriting; looking at dialogue, story structure and more. We'll also look at exploring with different forms, such as combining drag and theatre in our play Smalltown Boy! By the end we hope you'll have a bit more knowledge about playwriting, and a few ideas on paper to go off and explore. 
These events will be safe, welcoming spaces, and we really encourage LGBTQIA+ young people and POC to come along. This event is part of a weekend of activities including writing and drag workshops and a sharing of a work-in-progress of our show Smalltown Boy, please take a look at our other events too.
Brenda Callis is a playwright from Cornwall and now based in Bristol, who makes work for the South West. Her work focuses on telling forgotten stories and unheard voices, using research and community practice to write this, and also playing with fun forms like drag! She has had plays performed in London, Edinburgh, Exeter and Bristol. She has led writing workshops for Bristol Old Vic and University of Bristol, and is passionate about getting others writing! 
Catrin Walker Booth is an actor and writer from Cornwall. Catrin recently graduated from the Royal Welsh College of Music and Drama. Across Cornwall she has appeared in productions by O-Region/Hall for Cornwall, Kneehigh and FylmK, and is passionate about making work in, for, and about the South West. Catrin has written for the G7's Behind the Postcard initiative, Owdyado's Twisted Tales: Christmas Edition, and Coppice Theatre, and provides dramaturgical support for emerging South West playwrights through the Hall For Cornwall's New Artists Network.

TRAVEL BURSARY AVAILABLE : Email grace.davies@keap.org.uk