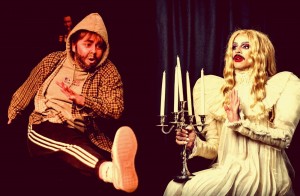 Saturday 11 November 10-1pm
The Writers' Block, The Ladder, 2-4 Clinton Road, Redruth, TR15 2QE
16-24 year olds: FREE
This 'Storytelling with Drag' workshop is for 16 - 24 year olds who want to have some fun and learn more about drag! We will be focusing on drag personas - the characters we make as drag artists and how we use the stage to tell a story through music/ lip-syncing/ comedy, often in under 5 minutes! 
The workshop will be led by the fabulous YuGiHoe, a drag queen whose work is filled with clever jokes and pop culture references, and the excellent Dwayne Pipe, a drag king whose work explores masculinity through humour. Both have confident drag personas and often tell entire stories in the length of one song. 
There will be an opportunity to develop a persona of your own, play with costume and start work on a number/ 3-minute-way to tell your story, with an opportunity to share your personas with others at the end! 
These events will be safe, welcoming spaces, and we really encourage LGBTQIA+ young people and POC to come along. This event is part of a weekend of activities including writing workshops and a sharing of a work-in-progress of our show Smalltown Boy, please take a look at our other events too.
Dylan Sutcliffe has been performing as YuGiHoe since 2019,as a Drag artist YuGi likes to explore comedy and pop cultural reverence through playing with gender presentation and clowning. YuGi was a Runner up at Bath Drag Performer of the Year 2022 and won Jessica Jungle's I'm Gonna Be a Star in 2022. YuGi has since performed across the south west including at Green Man festival and Bath's Komedia. 
Alex Woolacott created Dwayne Pipe because of her queer identity and love of the LGBTQ performance community, combined with her love of theatre and drag. It began with painting on a beard in her bedroom. Alex creates work with young people that involves dynamic movement, and nurturing their authentic theatrical voices. She graduated from Bristol Old Vic's Made In Bristol scheme in 2017 (InkBloc Ensemble),and has since graduated with a first class degree in acting. Since 2019, Alex has been facilitating theatre workshops for The Tobacco Factory, The Egg, The Theatre Royal Bath, Bath Theatre Academy, Bristol School of Acting and Bristol Old Vic. 

TRAVEL BURSARY AVAILABLE : Email grace.davies@keap.org.uk