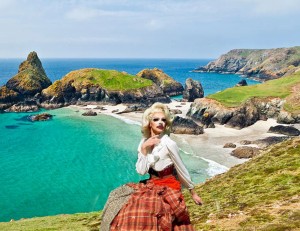 Saturday 11 November 2-4pm
The Writers' Block, The Ladder, 2-4 Clinton Road, Redruth, TR15 2QE
Free 16-24s
"Smalltown Boy by Brenda Callis, is a play about grief, community, and growing up queer in Cornwall. We also want it to be an explosive drag experience. We will be performing a work-in-progress sharing of Smalltown Boy for LGBTQIA+ young people and young people of the global majority to watch the play and give their thoughts/ feedback, which will be shaped into the final version of our play."
Smalltown Boy tells the story of Edie, a drag queen from Bristol, who in the wake of his boyfriend Leo's unexpected death travels to Redruth, Cornwall, to confront his family. Having never been told of Leo's upbringing, Edie suspects 'small-town homophobia' but when he arrives, he actually finds a world that Leo ran away from before coming out to. There, he finds Leo's mother, Leo's childhood sweetheart Hannah, and a sense of community he did not expect. As they all try to fit their discordant versions of Leo together, emotions and revelations begin to rise to the surface. How do you piece together a person who didn't have time to find those pieces themself? 
The show explores growing up queer in a rural place, and also the experience of being a person of colour in these rural areas through the character of Hannah. This play is being further developed with Bristol Old Vic, both in Bristol and Cornwall, and we want the feedback of young people to shape and develop the piece!
These events will be safe, welcoming spaces, and we really encourage LGBTQIA+ young people and POC to come along. This event is part of a weekend of activities including writing and drag workshops, please take a look at our other events too!
Brenda Callis is a playwright from Cornwall and now based in Bristol, who makes work for the South West. Her work focuses on telling forgotten stories and unheard voices, using research and community practice to write this, and also playing with fun forms like drag! She has had plays performed in London, Edinburgh, Exeter and Bristol. She has been shortlisted for the Mental Health Fringe Award w/ Scotsman & Tron Theatre, and in 2019 was a Bristol Old Vic Open Sessions' Writer.

TRAVEL BURSARY AVAILABLE : Email grace.davies@keap.org.uk