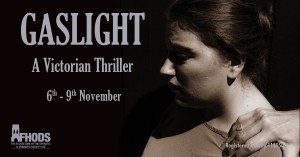 Wednesday 6th - Saturday 9th November 
Gaslight - 
gaslights, gaslighting, gaslighted
Manipulate (someone) by psychological means into doubting their own sanity
From The Archers to Love Island and the #MeToo movement, gaslighting has become part of our vocabulary, and was shortlisted for Word of the Year in 2018 by Oxford English Dictionary.
However, the term originated from the play Gaslight, Patrick Hamilton's gripping thriller first performed in 1938. It was later turned into an Oscar nominated film in 1944, starring Ingrid Bergman and Angela Lansbury. 
Gaslight 
opens with Jack Manningham slowly and deliberately driving his wife, Bella, insane. With bills going missing and paintings being removed, Jack has almost succeeded in his efforts. However, help arrives in the form of Rough, an ex-detective, who reveals to Bella the true identity of her husband and the depths of Jack's depravity. Together, Bella and Rough work to expose Manningham and bring him to justice, whilst also giving Bella an opportunity to escape his manipulation.
Although written over 80 years ago, the story of the Manninghams will resonate with today's audiences, shining a spotlight on this kind of psychological abuse.
Performances
Wednesday 6th November 7.30pm | Thursday 7th November 7.30pm | Friday 8th November 7.30pm | Saturday 9th November 7.30pm 
Tickets £13.00 | Concession £11.00 (over 60's). Suitable 15+ 
Book
Venue The Tower Theatre
North Road
Shorncliffe
Folkestone
Kent
CT20 3HL