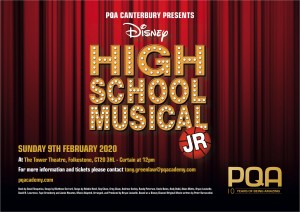 Sunday 9th February 12pm
Join the talent students of PQA Canterbury's AM Academy, as they transform into the cheerleaders, jocks, thespians, brainiacs and staff of East High, in one of the best-known Disney musicals in a generation… HIGH SCHOOL MUSICAL, JR.  Performed under license of MTI. 
Please note that there is a limit of 4 tickets per family. 
Tickets £15 | Concession £10 (under 16s & over 65s)
Running time approx 1 hour