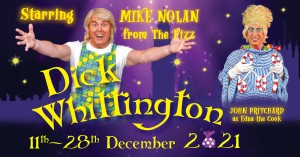 Saturday 11th December  - Tuesday 28th December 2021

Dick Whittington is coming to Folkestone this Christmas - a puuuurrfect treat for all the family. Starring the magnificent Mike Nolan from Bucks Fizz fame and John Pritchard as Edna the Cook for a seventh time!

Join our hero Dick Whittington on his thrilling adventure to find fame and fortune in the glittering streets of London. Will he be able to outwit villainous King Rat, save the city from his team of revolting rodents and most importantly, win the hand of his love, Alice?

Our hero is going to need a little help from you, if he's going to save the day. So get ready to boo, hiss, cheer, laugh out loud and join in the fun!
Expect the cheekiest of jokes, bonkers humour, the chattiest of animals, dancing, live music and fantastic songs, all wrapped up in a magical treat for all ages.

Tickets are on sale now, so join us for the ultimate feel-good festive family show!
Stalls
Adults £18
Concession £16 (over 65s)
Under 18s £12
Family ticket £55 (2 adults & 2 under 18s)

Gallery 
Adults £16
Concession £14 (over 65s)
Under 18s £10
Family ticket £50 (2 adults & 2 under 18s)

Performances
Saturday 11th December 2pm & 7pm
Sunday 12th December 2pm
Wednesday 15th December 7pm
Friday 17th December 7pm
Saturday 18th December 2pm & 7pm
Sunday 19th December 2pm
Monday 20th December 2pm & 7pm
Tuesday 21st December 2pm & 7pm
Wednesday 22nd December 2pm & 7pm
Thursday 23rd December 2pm & 7pm
Friday 24th December 2pm
Monday 27th December 2pm
Tuesday 28th December 2pm

Please note that there are no performances on Monday 13th, Tuesday 14th December, Thursday 16th as well as on Christmas Day and Boxing Day

Important COVID-19 information

1.     Based on current UK Government guidelines, tickets for December are being sold without social distancing. If government guidance should change, we will update the seating plan accordingly and contact you.
2.     The Tower Theatre is a COVID secure venue. We have a number of key elements in place for your comfort and safety, including a COVID safety officer, rigorous cleaning between performances, and other
         safety and hygiene measures for businesses as set out by the government in its performing arts guidelines. 
3.     We recognise we're all living in unprecedented and uncertain times, and our ticket guarantee provides you with the confidence to book your ticket, safe in the knowledge that you can move it if anything interrupts your plans. The guarantee is free of charge for all bookings made in 2020 and 2021. It allows you to move your booking to another performance date or different production, in the event that:
• The theatre is closed
• UK Government travel restrictions 
• You being unable to travel due to sickness and/or isolation
• You considering it unsafe to visit us for any reason