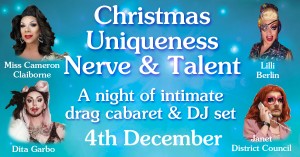 Saturday 4th December  8pm
Enjoy an intimate evening of drag cabaret, featuring a variety of acts to entertain and delight, topped off with a DJ set with DJ Shazbot to dance the night away. Guaranteed to be a night to remember!
PerformersDita Garbo
is a Kent based bearded drag performer & icon. Serving you sensual burlesque showgirl glamour, iconic style and bearded lady realness.
Mesmerising alluring feather fan dances, lip sinks, and stripteases. Dita Garbo serves technicolour vintage beauty with charisma uniqueness nerve & talent.
Janet District Council
is a bureaucratic drag intervention, who has recently taken up a new hot-desking space in Dover after her self appointed role as Queen Of Thanet expired. She brings red tape, blue sky thinking and the occasional roller skate to drag performance art.
Miss Cameron
is a Chilean, award winning female impersonator. Started her drag career 20 years ago as a pageant queen. Now based in the UK, you might spot this fierce queen by her impeccable makeup, flawless hair, stunning outfits and her overall act of elegance and class. On stage she is a fearless burlesque performer, with no inhibitions or shame at all… often leaving the crowd "happy to see her".
Lilli Berlin
is the quintessential housewife and the owner of the best cauliflower cheese recipe this side of Ashford. This dynamic drag diva is a domestic goddess and yummy mummy by day and a vivacious vintage vixen by night. She is an expert in combining death defying lipsyncs with campy crass comedy.
Featured on Channel 4's Drag SOS and mainstage host of Dover Pride 2021.
DJ Schaz Bot
has been destroying dancefloors for two decades since discovering the free party scene  as a teenager.
She's performed under her Teutonic Kaboom moniker all over the UK, across Europe, and even Tokyo for drag night 'Valhalla'.
Expect electro, pop and rave music showcasing queer artists and heroes.
Tickets £15 
Doors from 7pm | Strictly 18+