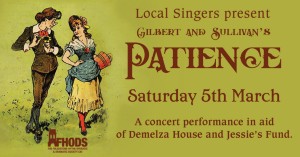 Saturday 5th March  7.30pm

Local singers and soloists join to give a concert performance of "Patience, or Bunthorne's Bride" by Gilbert and Sullivan. In this gently satirical tale, a group of lovesick maidens pursue an aesthetic poet, who has no time for them as he is besotted with the local milkmaid. She in turn knows nothing of love, until the playfellow of her youth turns up, who unfortunately is another poet. Add into the mix a troop of Dragoon Guards, previously engaged to the lovesick maidens and determined to win them back - a recipe for an concert of Sullivan's melodic genius coupled with Gilbert's cutting wit.  
The evening is given in aid of the Demelza House hospice and Jessie's Fund, a wonderful charity that provides music therapy for terminally ill children.
If you are a singer and you would like to join in the chorus details will be available in the new year. Please email chorworkfolk@talktalk.net to find out more from early January.
Tickets £12.50 | £5 children 14 and under
Doors from 6.30pm