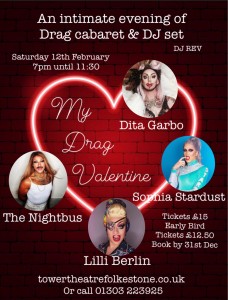 Saturday 12th February  8pm
Enjoy an intimate evening of drag cabaret, hosted by the gorgeous Dita Garbo, featuring a variety of acts to entertain and delight, topped off with a DJ set with DJ Rev, to dance the night away. Guaranteed to be a night to remember, full of love and laughter! 
Performers Dito Garbo
Dita is a Kent based drag performer & icon. Serving you sensual burlesque showgirl glamour, iconic style and bearded lady realness; mesmerising alluring feather fan dances, lip syncs, and stripteases. Dita Garbo serves technicolour vintage beauty with charisma uniqueness nerve & talent.
Sophia Stardust 
Cooky nut and absolute sweetheart, Sophia will bring the chaos, and surprise you. Whether she jumps off of something or throws herself around the room she's always up for a good time. She's the brightest star I've ever seen, brightest starrrr.
Miss Lilli Berlin 
Lilli 
is the quintessential housewife and the owner of the best cauliflower cheese recipe this side of Ashford. This dynamic drag diva is a domestic goddess and yummy mummy by day and a vivacious vintage vixen by night. She is an expert in combining death defying lipsyncs with campy crass comedy. Featured on Channel 4's Drag SOS and mainstage host of Dover Pride 2021.
The Nightbus
The Nightbus is a terrible person. The Nightbus is a God amongst men. The Nightbus is a halal chicken Kiev trussed in pleather and regret. 
All three are true...a
nd yet one is a lie. 
If you like your cabaret with a side of hairy chest, and hairier questions about the state of the world, get your tush down to this party PRONTO!
Early Bird Tickets £12.50 until the 7th January, £15 thereafter
Doors from 7pm | Strictly 18+ 
Unreserved seating