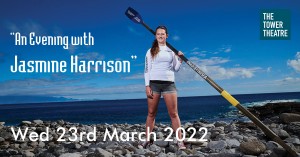 Wednesday 23rd March 7.30pm
Join us for the first in our series of Adventure Lectures. On a sunny February morning in Antigua, world record breaker Jasmine Harrison took the last few strokes of one the world's hardest rowing challenges, when she crossed the finishing line of the Talisker Whisky Atlantic Challenge. 

Come along and hear how Jasmine overcame isolation, sleep deprivation and injury to achieve this amazing journey. Listen to her frightening tales of twice having her boat capsize, coming within a whisker of being run down by a 750ft tanker, being tracked by sharks hoping for a mid-Atlantic meal and how she swam with the dolphins that followed her boat. 
Jasmines story and stunning photography will be an evening not to be missed!
Tickets £15 | Concessions £12 (over 65s & under 18s)
Doors from 6.30pm

Presented by Adventure Lectures