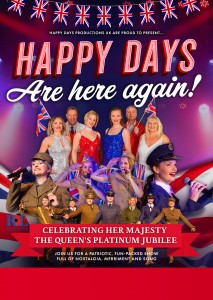 Saturday 28th May  2.30pm
Happy Days Productions are delighted to bring you their
'Celebration of Her Majesty The Queen's Platinum Jubilee
', including songs from musical icons of the last 70 years and creating a street party atmosphere on stage! 
Come and join them for a good old fashioned knees up, and of course plenty of flag waving in their 'Last Night of the Proms Finale'.  Add some mirth and merriment, and you are guaranteed to leave with a smile on your face and a song in your heart!
Suitable for all ages!
Tickets £17 | Concessions £15.50 | Children aged 18 and under £10
Doors from 1.30pm