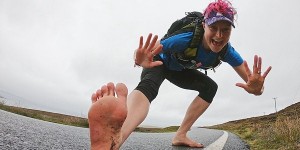 Wednesday 19th October  7.30pm
In 2019, Anna ran 2,352 miles (the distance of 90 marathons) through Britain – completely barefoot. 
Starting in the Shetland Islands and ending five months later in London, she weaved her way along rugged coastlines, through small villages, across moors, along beaches, over farmland and even pitter-pattered down the odd picturesque A-road too.
There were many mishaps and disasters along the way, but helping to keep her going through the tough times was a mission to deliver motivational talks to over 1,700 young women. She was also was joined by over 2,500 local runners during 148 days on the road and somehow the kind British public passed her kit bag along, like a giant baton while she ran.
It was a story that reached over 100 million people through international media and without a doubt the toughest and yet most amazing journey of her life.
Adults £15 | Concessions £12 (over 65s & under 18s)
Doors 6.30pm
Presented by Adventure Lectures