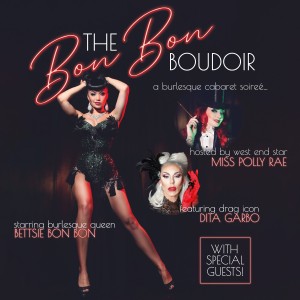 Saturday 3rd September  8pm
Folkestone's fiercest threesome Miss Polly Rae, Bettsie Bon Bon and Dita Garbo are back with their biggest show yet! After bursting onto the Folkestone scene in Spring 2022, this titillating team bring 'The Bon Bon Boudoir' to the Tower Theatre.  
A cabaret, burlesque and drag extravaganza, expect the unexpected as we bring song, sass and sauciness to your Saturday night!  
Famed for starring in some of the most successful cabaret shows in London (The Hurly Burly Show, The Soho Burlesque Club, The Service at Café de Paris, and The London Wonderground) this is a real treat to see Miss Polly and Bettsie Bon Bon in such an intimate setting as well as another opportunity to catch the delights of the star and producer of the Tower Theatres 'Punk and Plume, Dita Garbo.  
With glamour, giggles, feathers and a few special guests along the way, these international cabaret superstars invite you to an unforgettable immersive experience.
£15 single ticket | £37.50 VIP table for two | £75 VIP table for four
Strictly 18+ | Doors from 7pm