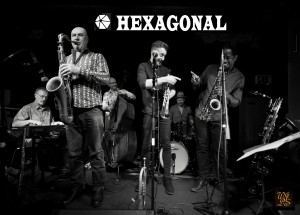 Thursday 25th August  7.30pm
The World Jazz Live Sessions continue this August with Hexagonal. 
Hexagonal
This high energy sextet, with African and Jazz influences, was originally formed in late 2016, to perform the music of two titans of Jazz - Bheki Mseleku and McCoy Tyner. 
It was an ambition born of love and experience; Simon and John toured with Bheki while Jason worked with McCoy. These associations bring an authority and authenticity to the group's music as well as having a strong influence on their original material. Since the bands inception it has released its critically acclaimed debut album McCoy and Mseleku and has played to enthusiastic audiences at club and festival appearances including A Love Supreme, Scarborough, and Herts Festivals as well as concert recordings for BBC Radio 3's Jazz Now and in session for Radio 3's J-Z.
John Donaldson – Piano
Andy Panayi – Alto Sax
Greg Heath – Tenor Sax/Flute
Simon Thorpe – Bass
Tristan Banks – Drums
Sid Gauld – Trumpet
'The band is impressively hip...with a variety of rich melodies, vibrant harmonies and infectious grooves...the optimism of the music shines through like a shaft of sunlight on a winter's day.'
 London Jazz News 
Hosted by Maiuko.
Tickets £15 | Doors from 6.30pm
Unreserved seating
A PortCaia production in association with The Tower Theatre