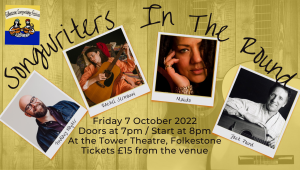 Friday 7th October  8pm
As per every year, Tutors of this years Folkestone Songwriting Festival, will take to the stage and showcase their music. This fabulous evening is being led by the brilliant and engaging Findlay Napier and gives an insight into the way Artists work, think and create. This year we are grateful to The Tower Theatre, for hosting the event.
This year our Tutors are:
Findlay Napier
Rachel Sermanni
Maiuko
Jack Pound
FINDLAY NAPIER
Findlay Napier is one of Scotland's finest singer songwriters. In 2021 he was nominated for Musician of the Year at the Scot's Trad Music Awards and In 2018 he was the first solo act to be nominated for Live Act of the Year. Described as Micheal Marra meets Elvis Costello, a Caledonian Loudon Wainwright III or a Scottish James Taylor this master storyteller's songs are full of earthy humour, hopeless love and biting satire.  
RACHEL SERMANNI
Rachel Sermanni is a Scottish based singer/songwriter that makes the mundane moments mystical: shock-positive pregnancy tests in train-station toilets, coffee machine breakages, cold river swims, the regret of not saying 'I love You', the moon & how it pulls, bare feet on wood floors, the soft glow of a house plant, 'what even is consciousness?', strange dreams lingering in quiet mornings…  
MAIUKO
Born in Mozambique of royal Swazi and Portuguese ancestry, Maiuko has her very own style, blending Jazz, Afro-Blues, African inspired rhythms, and Portuguese melodies into one timeless language of music. Throughout her career, she has won Awards for Best Newcomer, Female Performer of the year, Best Female Voice, Best uploaded on Get-out-there, and most recently for Multifaceted Artist.
JACK POUND
Many singer/songwriters shine in the spotlight, many more have been heralded, but few can match the uncompromising, quality of work Jack Pound has produced over the years.
In the past Jack has been compared to various artists such as Big Bill Broonzy, Mark Knofler and Guy Clark – In reality Jack is simply himself and against all prevailing musical trends has established himself as a low key, songwriting phenomenon.
'A quirky, sophisticated, constantly innovative original with a veritable soundtrack to a cinema of songs.'
Pete Brown (Annexe Music)
Tickets £15
Doors from 7pm | Unreserved seating