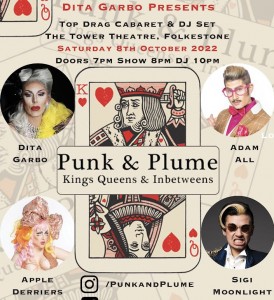 Saturday 8th October  8pm
Enjoy an evening of top drag cabaret, hosted by the fabulous Dita Garbo, featuring a variety of acts to entertain and delight, topped off with a DJ set to dance the night away. Guaranteed to be a night to remember! 
Dita Garbo
Host & producer of Punk & Plume, Dita is a Drag Burlesque, Dancer, Performer & Showgirl. Performing & hosting in London and the SE. From mesmerising feather fan routines & striptease, to lip sync's dancing the house down. Dita is your host and can't wait to welcome you all back.
Adam All & Apple Derrieres
Adam and Apple are a dynamite duo in and out of Drag and are huge advocates of the LGBTQI+ scene, their aim being to bring visibility to queer love, people and performers, particularly within the cabaret scene.
As seen at TedX, on the west end, your telly, your local gay bar, or hosting their acclaimed Drag King night 'BOiBOX' which has been described as 'London.s vital Drag King showcase (TimeOut).
Together they have taken the Cabaret world by storm, performing harmoniously together with their unique brand of live blended vocals, coordinated couture and cartoon flavoured Drag.
Sigi Moonlight
Member of Pan-Asian Cabaret Collective The Bitten Peach and the Drag King Collective PECS, Sigi Moonlight has performed all over from clowning around at Glastonbury to bringing inflatable penis fights to Shakespeare's Globe. 
They are known for mixing suave, sophisticated boylesque with clowning and politics so outrageous that they were once banned from performing in Canada.
Tickets thereafter £15
VIP Package £60 (includes 2 tickets, a bottle of Prosecco & private meet & greet with Dita Garbo) 
Doors from 7pm for an 8pm start | Strictly 18+