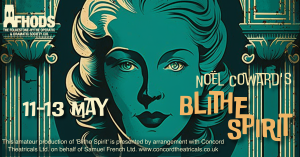 FHODS are delighted to present their production of Blithe Spirit in May 2023 - it will be a hoot!
Accomplished mystery writer Charles Condomine invites the rather eccentric local psychic medium Madame Arcati to his delightful home in Kent, for dinner and a séance. The invitation is under false pretences, however, as Charles is really only interested in acquiring 'lingo' for his next novel - about a 'homicidal medium'.
The evening takes a spectacular turn when Charles's first wife Elvira returns unexpectedly, demanding Charles's attention. This has ominous - and hilarious - consequences for Charles's second wife Ruth; particularly since Elvira has been dead for seven years!
Noël Coward's classic 'improbable farce' has never fallen from popularity since its first performance in 1941 and continues to be performed all over the world. In fact, the original run set the West-End record for non-musical plays and was not surpassed until 1957 by none other than The Mousetrap!
Stalls 
Adults £16 | Members £14 | Under 18s £11
Gallery
Adults £14 | Members £12 | Under 18s £11
Doors open one hour before the performance