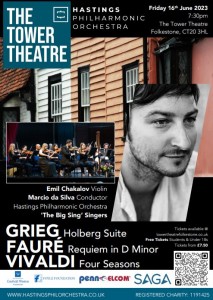 Friday 16 June, 7.30pm 
Hastings Philharmonic Orchestra is a dynamic world-class symphony orchestra for the flourishing South East, led by Artistic Director Marcio da Silva.
We are delighted that they are returning to The Tower Theatre for a second time, with a popular programme featuring GRIEG Holdberg Suite, VIVALDI Four Seasons and FAURÉ Requiem in D Minor.
Emil Chakalov - Concert Master
Emil has been leading the Hastings Philharmonic Orchestra since 2019. He has built a successful career as an orchestral, chamber and session musician. He is one of the leaders of the Orchestra of the English National Ballet, where he regularly performs the violin solos in beloved ballets such as Swan Lake and Sleeping Beauty, at the London Coliseum, the Royal Albert Hall and other prestigious venues. He also performs regularly with the BBC Concert Orchestra, the Royal Philharmonic Orchestra, the English Chamber Orchestra and others. Emil is also a member of John Elliot Gardiner's Orchestre Révolutionnaire et Romantique, which tours America and Europe striving to provide bold new perspectives on the music of the 19th and early 20th centuries through its stylistic fidelity and intensity of expression.
Find out more about him:
www.hastingsphilorchestra.co.uk/concert-master
A wonderful evening, not to be missed!
https://www.hastingsphilorchestra.co.uk/
Tickets
Rows B-F £22.50 | G-L £17.50 | M-R £12.50 | S-X £7.50 | Under 18s and full time students go free
Doors from 6.30pm