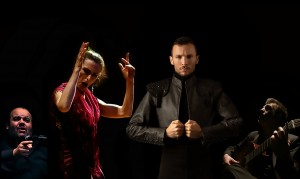 Friday 13 October, 7.30pm
Flamenco Express returns to Britain with a new cargo of raw, heart-wrenching flamenco – with 'sizzling soloist' La Joaquina, guitar virtuoso Chris Clavo, the massive vocal presence of Antonio El Pola, and award-winning choreographer and dancer 
Juan Carlos Avecillas
 from Cadiz.
Currently working with flamenco legend María Pagés, Juan already has a formidable record of prestigious Spanish awards and international productions.
In 2015 he created Melómano and debuted his own show "Tic Tac Toe" at the Institutos Cervantes in Chicago and New York. He presented his own work in Toulouse in 2019, and at the Festival de Jerez 2021 and Madrid en Danza 2022.
A fiercely confrontational but deeply contemplative artist whose ambition is to 'find the self in which my truths converge'.
El Pola
Known for over twenty years as a formidably talented singer dedicated to the purest flamenco, Antonio El Pola has grown to fill the greatest stages, performing with many legends of the art, such as La Chana, Paco de Lucia, Juan El Camas, Concha Vargas, Antonio Moya and Juan Castor. A true custodian of the flamenco history.
TARANTO
 With Juan & El Pola.
https://www.youtube.com/watch?v=RdpzWIKxFUo
ALEGRÍAS
 with Juan and El Pola:
https://youtu.be/oz0NmeEyQlY
Standard £18 | Concessions £15
(over 65s & under 18s)
Doors open from 6.30pm