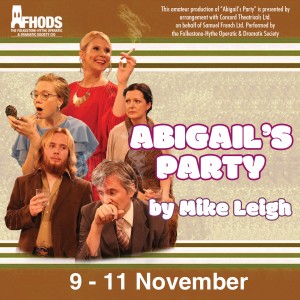 Thursday 9 November - Saturday 11 November
FHODS are proud to present Abigail's Party, Mike Leigh's masterpiece of 70s theatre that gives the audience a chilling yet hilarious glimpse into a suburban soirée that turns to tension and tragedy.
Beverly and Laurence are a married couple whose love language is passive aggression, and things come to a cringe-inducing head when their friends and neighbours, Angela and Tony, come over for drinks and nibbles with a side of hostility.
When Susan joins the melting pot to get away from her teenage daughter Abigail's birthday party a few doors down, the audience get to witness the hilarious chaos that comes to a head when five people who have nothing in common and no love for each other are pushed into a claustrophobic, obnoxiously decorated living room and pumped full of booze.
Expect drama, hilarity, cutting dialogue and an abject, unforgettable lesson in how to host the house party from hell!
Stalls 
Adults £16 | Members £14
Gallery
Adults £14 | Members £12
Doors open one hour before the performance