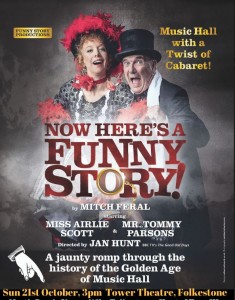 Experienced Music Hall artists, TOMMY PARSONS & AIRLIE SCOTT take you on a journey from its very beginnings through to its 1890s heyday with the likes of Marie Lloyd and Champagne Charlie, onto wartime recruitment and the cross-dressing Vesta Tilley of the Great War.
A fun sing-along afternoon is guaranteed for people of all ages and highly illuminating for those interested in the roots of popular entertainment, the culture of the late Victorian era and The First World War.
Performed by Mr. Tommy Parsons and Miss Airlie Scott.
Directed by Jan Hunt
of Players Theatre, Paper Moon and Good Old Days fame
. 
Sunday 21st October at 3pm
Tickets £12 | Concession £8
Box Office 01303 223925