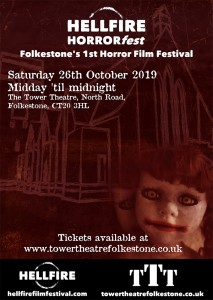 Saturday 26th October from noon till midnight!
Hellfire HORRORfest - Folkestone's 1st Horror Film Festival
Hellfire HORRORfest is a horror film festival held at The Tower Theatre, Folkestone, this October. The festival - a first for Folkestone - consists of twelve hours of back-to-back horror films from around the world. 
Prepare to have a bloody good time and be scared out of your mind at this devilishly delightful event!
Dress up for the festival - the scarier the better - and be in with a chance of winning a prize!
Hellfire HORRORfest is Kent's only horror film festival and is hosted jointly by Hellfire Film Festival, best known for the internationally recognised Hellfire Short Film Festival, and the iconic Tower Theatre, Folkestone.
Tickets: £15
Under 16s to be accompanied by an adult.
More information: hellfirefilmfestival.com/horror