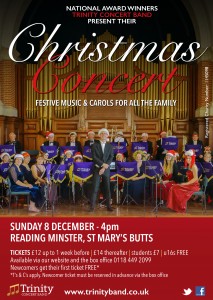 Trinity Concert Band's Christmas concert is the perfect way to get into the festive spirit with lashings of music and carols guaranteed to bring Christmas cheer to all the family. The award winning wind orchestra will kick start proceedings with a rousing "Fanfare for Christmas", followed by a variety of seasonal specials including "O Magnum Mysterium", "Jingle Bells", music from blockbuster greats "Home Alone" and "Polar Express", a fabulous Glenn Miller style Christmas medley and much more!
Sunday 8th December 2019 - 4:00pm Doors open 3:30pm

Tickets:
 ​Advance: £12, Full Price: £14, Student: £7 (ID may be required), Under 16s: Free, TCB Newcomers: Free
 (find out more here)
N.B. Advance price applies up to one week before the concert, after which the full price applies. The Box Office will close 24hrs before the concert.