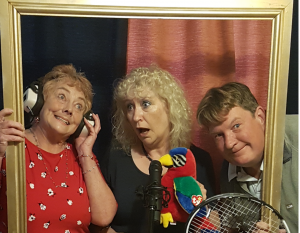 Thank Goodness They Can't See us!!! by Glenys Lloyd-Williams & Ellen Weeks - a spoof radio show, introducing Dash the Dog. Follow the antics of Lisa & Kate on the first day of their new venture, Fostering Furry Friends. Opportunities for you to join in - if you want to! 
Well Done! by Ellen & Glenys -married couple, Vicki and Steve, wake up with proud memories of her prestigious award ceremony the previous evening. But, their everyday banter quickly turns into an itchy interchange. 
Score by Lyndon Brook - a flirtatious and competitive doubles tennis match. Watch out for the balls!
Thursday 9th August 8pm / Friday 10th and Saturday 11th August 2pm Tickets
 £5.00
12+