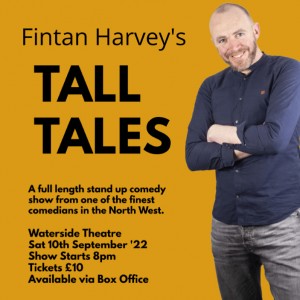 Fintan Harvey is a hilarious stand-up comedian who is head and shoulders bigger than most. Having spent his life looking down on people, Fintan has a different view of the world. Looking at the things from a different perspective, he shares stories of growing up in rural Derry in the 80s – the influx of new foods that weren't potatoes and the suspicion that surrounded it. How do you eat spaghetti bolognese with your family when your only
reference is a Disney animation about dogs?

Top local support on the night from Peter E Davidson and Ronan Boyle.