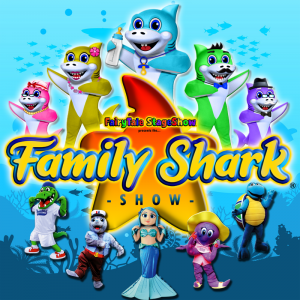 Saturday 12 November at 2pm
FairyTale StageShow presents the
Family Shark Show
Ideally suited for families with children aged 1-6 years
Venture into the deep blue sea and join Baby on the adventure of a lifetime!
Come and help, Mummy & Daddy prepare Baby for the first day of school, where he meets
new friends from different worlds including Olivia the Octopus and Tommy the Turtle, and is
confronted by the school bully, Alex 'the Angry' Alligator and his sidekick Sammy 'the Silly'
Sealion.
Sing out loud as everyone is invited to Baby's birthday party on Treasure Island and there's
fun for all the family, when Miss Magiclegs, the schoolteacher, announces the upcoming
talent concert - The Fish Factor!
Please remain in your seats for a very special encore presentation of the Shark Song, with all
members of the Shark Family!