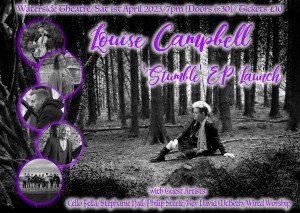 Saturday 1 April at 7pm
Louise Campbell - 'Stumble' EP Launch
Adults £10 (incl £1.50 BF) / Children £5.50 (incl £1.50 BF) / Under 12s Free
Local Christian singer/songwriter Louise Campbell brings you a night of music to celebrate the launch of her debut EP 'Stumble'. This EP tells the story of struggles faced, of self- discovery and overcoming challenges.  Accompanying Louise is a fantastic array of talent. The opening act is the wonderful CelloFella, bringing some beautiful classical music to life, and maybe a little unexpected twists too. American Stephanie Hall lends her vocals to Louise's EP but will also share some songs with you in her stunning bluesy gospel tones. Local singer songwriter Philip Steele is next on the bill, a soulful young man with incredible timbre to his voice. Rev David McBeth needs little introduction, a well-known figure on the country gospel scene. Finally, Wired Worship, a contemporary worship collective of folk from the Derry and Donegal area, will bring a mix of original and well-known hymns in a contemporary Celtic style.  It promises to be a wonderful night of fellowship and music for everyone.
Please contact the Box Office on 02871314000 to book all concessionary tickets