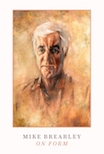 Friday 13 October - 8.00 pm
Mike Brearley On Form and in conversation with Mark Hamlin
There is no dispute that Mike Brearley was one of England's most successful cricket captains. And after his playing career he was President of the MCC before seamlessly moving to the Presidency of the British Psychoanalytical Society, thus illustrating his two key talents - cricket and psychoanalysis..
In On Form Brearley effortlessly marries these many and varied talents to examine being on and off form across a number of different disciplines. Brearley's writing encourages all of us to reflect on what it is that encourages us, frees us, or obstructs us in our daily life. Cricket and psychoanalysis are covered of course, but his theory is valid across the board, extending as it does into all walks of life: finance, music, philosophy, medicine, teaching and drama.
Rodney Hogg, the Australian fast bowler, claimed Brearley 'has a degree in people', and his extraordinary galvanising of Ian Botham in the 1981 Ashes, regarded as one of the greatest feats of sporting psychology of all time, bears that out. How Brearley's excellent man-management skills motivated this temperamental talent to produce a superhuman performance is an inspiration for us all.
Mark Hamlin is a Clinical Psychologist and after many years working in the NHS established a Management Consulting firm with offices in Washington, Johannesburg and London in 1990. Mark is a senior adviser to large corporations in many areas including leadership, culture and corporate change programmes. His models of transformation are used by practitioners around the world to enable the successful implementation of strategy. Born in South Africa, he lives locally and was President of Wedmore Opera for many years.