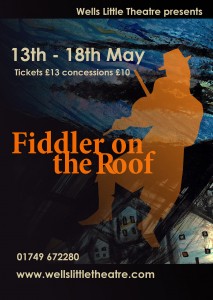 FIDDLER ON THE ROOF has touched audiences world wide with its humour, warmth and honesty and beautiful heart-
stopping music, including 'If I Were A Rich Man', ' Sunrise, Sunset' and 'Matchmaker'. The story is set in the village of Anatevka in Imperial Russia in 1905 where life is as precarious as a 'fiddler on the roof'. In this tight-knit Jewish community we meet Tevye, the poor milkman and his five daughters whom he attempts to protect in the face of changing social mores and growing anti-Semitism.
The universal themes of self-determination, ethnic discrimination, tradition and romantic love continue to have strong resonance in the contemporary world and present an evening of laughter, joy and sadness.