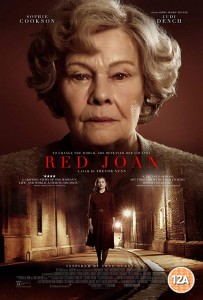 Starring

Judi Dench

,

Sophie Cookson

and




Stephen Cambell Moore

Directed by
Trevor Nunn
Joan Stanley(Judi Dench) in old age  is questioned by Special Branch about her activities whilst studying physics at Cambridge in the late 1930's. Was she really working for the Soviet Union?
Based on the novel by Jennie Rooney which was inspired by real events.
English born Joan Stanley, a Soviet and communist party sympathizer, becomes employed as a British government civil servant, and gets recruited by the KGB in the mid 1930s. She successfully transfers nuclear bomb secrets to the Soviet Union (Russia), which enables them to keep up with the west in the development of atomic weapons, and remains undetected as a spy for over a half a century.
Wed 2 Oct, 2pm.
 Tickets £8
108mins
Before the 
Wednesday Film
 enjoy a relaxing, light lunch in our 
Foyer Café
.
Open from 
12.30pm to 2pm
before a film on Wednesdays only.
Pre-booking required at a 
minimum of TWO DAYS IN ADVANCE
Click here to book your lunch