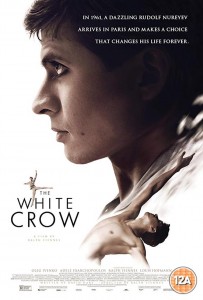 Starring

Oleg Ivenko

and

Ralph Fiennes


Directed by

Ralph Fiennes
Director Ralph Fiennes captures the raw physicality and brilliance of Rudolf Nureyev, whose escape to the West stunned the world at the height of the Cold War. With his magnetic presence, Nureyev emerged as ballet's most famous star, a wild and beautiful dancer limited by the world of 1950s Leningrad. His flirtation with Western artists and ideas led him into a high-stakes game of cat and mouse with the KGB. 
Wed 16 Oct, 2pm.
  Tickets £8
127 mins
Before the 
Wednesday Film
 enjoy a relaxing, light lunch in our 
Foyer Café
. 
Open from 
12.30pm to 2pm
 before a film on Wednesdays only.
Pre-booking required at a 
minimum of TWO DAYS IN ADVANCE
.


Click here to book your lunch