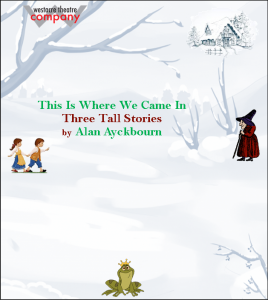 Written by

Alan Ayckbourn


Directed by

Andy Naylor
Three eccentric storytellers, a group of mixed up players and a curious mechanical music mangler
manage to muddle their way through some famous tales 
about Gretel and Hansel and princes and frogs, 
despite lapses in memory along the way.
But as the stories unfold the players begin to realise
that the storytellers are not all they seem……
A different
but perfect entertainment for the festive season
written by one of  the UK's greatest living playwrights.
D

E

C

E

M

B

E

R


Sat 14, 3.00pm; Mon 16, 7.00pm; Tue 17, 7.00pm; 
Wed 18, 7.00pm; Thur 19, 7.00pm. 
Tickets £12 (£8 Under 21s)
Fri 20, 7.00pm; Sat 21, 3.00pm; Sun 22, 3.00pm;
Mon 23, 3.00pm. 
Tickets £15 (£8 Under 21s)