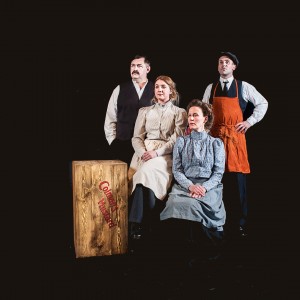 A play about love, duty, family, ambition... and mustard.
Set in the shadow of The First World War this funny, sad and thought-provoking play resonates with Norfolk voices and locations and examines life in a world where 'things int fixed solid no more' and where change is coming...even to Norfolk. 
In 2012 and again in 2014 award-nominated fEAST Theatre scored a major hit with
The Canada Boys
. Sell out performances across the region and in London helped to put this new company on the map and fEAST was praised for
'bringing original and vibrant theatre to our region'
EDP.  Now by popular demand and with its original cast, Rob John's much-loved play sets off on its third regional tour.
The Canada Boys
is based on the true story of a group of workers at J & J Colman and two brothers who'd never ventured further west than Wymonham but who dared to imagine a new life for themselves in 'The British Dominion of Canada
'
when,
i
n 1912, the famous mustard company, concerned by rising unemployment in Norwich, offered some of its employees the opportunity of a new life on the other side of the Atlantic. 
Friday 17 April 7.30pm 

 Tickets £15