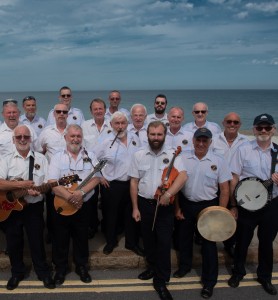 The Sheringham Shantymen
Celebrating 30 years of service on behalf of the RNLI and other charities.
The Sheringham Shantymen are immensely proud to wear the RNLI badge on their uniform and the only organisation outside the RNLI that is allowed to do so. They support the RNLI in a myriad of ways as well as supporting other charities and performing at many venues in the UK and around the world
They have visited Germany, Virginia USA twice, Ireland four times, Holland twice and France twice. As well as hundreds of local performances the group has entertained at prestigious Maritime Festivals at Bristol, Lincoln, Ipswich, Great Yarmouth, Southampton (start of the 2000 Tall Ships Race) and Portsmouth Festival of the Sea. They helped open the International Boat Show at Earl's Court in 1995 and have appeared on national television in 'The Big Breakfast Show', 'Highway' (with the late Sir Harry Secombe), Children in Need, and 'Blue Peter' for which they have 'the badge'. Since 1990 the group has completed over 1,000 public performances, made three videos and recorded 7 CD's the most recent one in 2016.
The Norfolk Broads
are  a four-piece female ensemble who enjoy singing low-pitched folk songs about love, despair and dastardly boyfriends. 
They bonded over maritime work songs and failed romances in the alto section of the Trad Academy Sea Shanty Choir, deciding to form a girl-group during a long car ride to Cornwall in 2014. Since then, they have performed their spirited harmonies at festivals and venues in London and further afield, including the V&A Museum of Childhood, the Museum of London Docklands, on board the Cutty Sark, Wilton's Music Hall, the London Review Bookshop, Folk East festival 2016 and the Minack Theatre. 
The Broads supply their repertoire of traditional stories with a very contemporary verve and energy, using old songs to fuel new takes on the lives of women both past and present.
"Young female quartet the Norfolk Broads are strong storytellers...Their close harmonies brought a witty feminist take to a well-curated set of tales of impotence, greedy landlords, and the joys of a single life."
The Guardian
Sunday 9 August 12noon to 3pm
Tickets £12
Not to be missed - if it's wet, bring an umbrella!