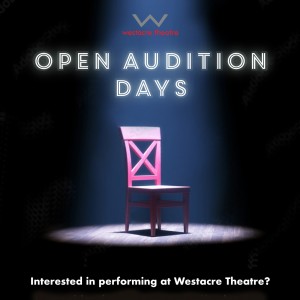 Everyone is welcome to our new open audition days. 
Westacre Theatre Company would love to open its doors to new actors who would like the opportunity to perform on one of our wonderful stages.  
Whether you have experience already, or would like to give it a go, our open auditions are the place to start.  
Run as workshops, these sessions will give you a chance to show us what you can do whilst having a great time and meeting new, like-minded people. You can get an insight into our coming season, performance dates and rehearsal schedules, allowing you advanced knowledge of what you're letting yourselves in for!   
There is no need to prepare anything, just bring yourselves and join in, we'd love to meet you! 
SUNDAY 23rd January 10.00am – 12.00pm  
SUNDAY 27th March 10.00am – 12.00pm  
If you have trouble with these dates but would still like to get involved, do let us know by emailing