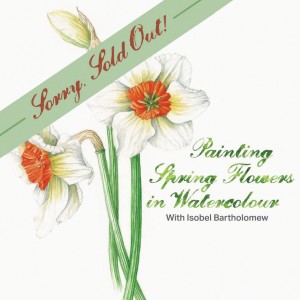 Spring flowers are always a welcome sight.  Come and explore drawing, composing, colour matching and painting techniques.
Through group demonstrations and encouraging one-to-one tuition, each individual can work at their own pace in a relaxed but stimulating environment. 
Suitable for all abilities 
£70 for 2 days
Saturday 19th March, 10.00am- 4.00pm
&
Sunday 20th March, 10.00am - 4.00pm

Equipment List:

1. Cartridge paper for sketching 
2. Watercolour paper (No smaller than A3 size) NOT or HOT PRESSED surface –140 lb (Usually no paper stretching is required)  1 or 2 x A3 sheets should be adequate
3. A support board for paper
4. Watercolour paint (bring all you have – if you are new to watercolours, a basic palette of (Winsor & Newton artist's quality)Winsor Yellow, Cadmium lemon, French Ultramarine, Permanent Alazarin Crimson, Winsor red.  Additional useful colours are: Permanent Rose, Indigo, Permanent Magenta, Naples yellow.
5. Mixing palette (old white plates are excellent)
6. Watercolour brushes – Round  (recommend W&N Pointed Round – Size 3 & 4) 
7. Pencils – suggest H, and HB, and blade for sharpening 
8. Soft Eraser but not a putty rubber
9. Masking tape 
10.Rag or kitchen paper 
11.Water containers x 2 
12.Tracing paper  (optional for transferring a design onto w/c Paper) 
13.Dividers (optional- for measuring parts of the plant) 
14.Medium-sized vase/ water container to keep specimen fresh. 
PLEASE NOTE: FRESH PLANT MATERIAL WILL BE SUPPLIED