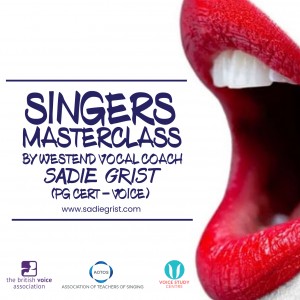 If you are a classical singer looking for a more contemporary style, a Musical Theatre or Pop lover after a sweeter sound, or you'd simply like to have a go, your voice is the most versatile instrument around and it can do amazing things! 
This workshop is designed for singers who would like to improve their performance whatever the reason, be it an audition, a performance or just for fun!
You will need to prepare a couple of pieces in advance to really make the most of these sessions - but don't be afraid, bring Twinkle Twinkle Little Star if all else fails! 
Spend a day learning alongside like minded singers as you explore the way your voice works and how to use it to greater effect. Upon completion you will have explored a range of reliable techniques to take away with you and use forever. 
Sadie has clients including West End stars & celebrity artists, industry experience in performing & training undergraduates at top level drama schools, as well as an extensive and up do date knowledge of the weird science that makes voices work…( and some of it's really weird!), enabling her help you improve your singing in the way that works for you; it's also her favourite thing to do! 
- Individually tailored warm ups. 
- Performance opportunities with feedback and advice.  
- Q&A session for advice and solutions on any problem areas. 

Saturday 28th May, 10.30am - 4.30pm 
To give you some ideas, songs performed during our first Masterclass included: 
- Burn - Hamilton
- Sweet Dreams (Are Made of This) - The Eurythmics
- Evermore - Beauty and the Beast (2017)
- Bring Him Home - Les Miserables
- Harvest Moon - Neil Young