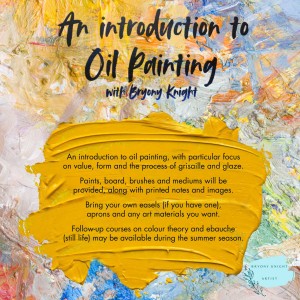 A one day introduction to oil painting session, with particular focus on value, form and the process of grisaille and glaze. 
Paints, board, brushes and mediums are provided, along with printed notes and images.  
Students are encouraged to bring their own easels (if they have one), aprons and any art materials they wish to bring.  
There will be a 30 - 45 minute lunch break.  

Sunday 22nd May, 10.00am - 3.00pm 
 
instagram @bryonyknightart  
Follow-up courses on colour theory and ebauche (still life) may be available during the summer season.