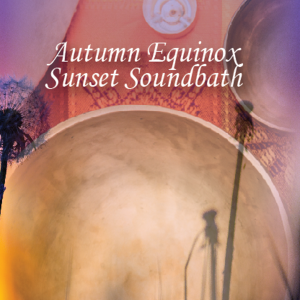 RobynWren Sacred Sounds welcomes you to a beautifully relaxing and restorative lakeside journey of sound.  
What better way to celebrate this time of year than with a beautifully restorative soundbath, immersed in nature and timed with the equinox sunset.
You will be gently guided through the flow of the soundbath. Let the beautiful sounds and healing vibrations of the singing bowls, gongs, chimes, rav vast and more take you on a journey of sound.
Benefits of soundbaths:
Lowers blood pressure & heart rate.
Relieves stress & anxiety, reducing tension and pain.
Promotes better sleep, enhanced focus, improves memory and can increase energy.
What to bring:
At least one thick yoga mat.  You will be laying on the ground for approx 90 minutes.  The more comfy you are the better the experience.
2 blankets, one to lay on and one to cover yourself with. 
2 pillows/cushions - 1 for your head and 1 for under your knees, this helps support your back.
Plus a bottle of water.  Wear comfy clothing.
Essential info:
For ages 16 years & upwards.
Please note: this sound bath is not suitable for anyone suffering from sound induced epilepsy, anyone in their 1st trimester of pregnancy, managing a severe mental health condition or sleep apnoea.Saturday 23rd September, 5pm - 6:30pm
Suitable for 16+
Spaces are limited so book early!
£15 per person