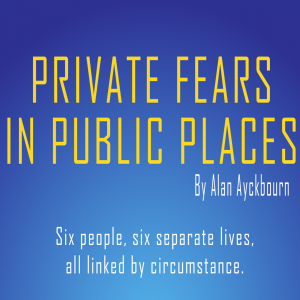 Private Fears in Public Places 
By Alan Ayckbourn
October 19th, 20th, 21st, 26th, 27th 7.30pm 
October 28th 3pm & 7.30pm 
£16 & £10 
Six people, six separate lives, all linked by circumstance. 
Does Nicola still love Dan ? 
Is Stewart on the verge of an office Romance? 
Will Imogen ever find true love? 
Does Ambrose have a secret life? 
And what on earth is Charlotte up to? 
Amid the noise of public bars, cafes's and offices, these six individuals deal with their private challenges. Although their lives ingeniously intersect, they remain inescapably solitary. 
Widely regarded as one of Ayckbourn's finest in years, this is a gem of a play. An intimate portrait of contemporary life that is tender, true and very funny.