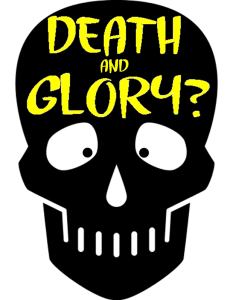 For 14-18 year olds
Ten self-contained sessions led by Camilla rehearsing for April's youth production of
DEATH 
AND
 GLORY?
Thurs 24, 31 Jan; 7, 14, 28 Feb; 7, 14, 21, 28 March; 4 Apr 
6.00pm-7.30pm
£50 
PERFORMANCES matinee and evening of Sat 20 April
Please note: cast members must be available for rehearsal sessions above, as well as 
Sun 14 
and
Sat 20 April
from 10.00am
.
DEATH 
AND GLORY?
Ten sessions rehearsing this classic comedy. Casting will take place on the first session (January 18).
Adapted from Nikolai Erdman's
The Suicide
, this black comedy centres around a chap who – having decided he wants to end it all – is suddenly inundated by locals desperately urging him to honour their causes through his intended demise. Naturally, it all gets a bit much.
On the day he'd pencilled in as his last, things don't go entirely as planned…
Camilla Falconbridge directs this hilarious "comic cure for political headaches … that explodes with laughter" (and let's be honest, there are a lot of "political headaches" about lately!)
Please note - when booking online our system shows the last date in the season.
In compliance with 
General Data Protection Regulations (GDPR)
, we ask that parents please download the forms below, complete them and return them to us at the first session in the workshop season:
Parental Emergency Info Consent Form
Parental Photograph Consent Form
If you have completed these forms within the last six months, please complete the form below and return it to us at the first session in the workshop season:
Parental Repeat Consent Form