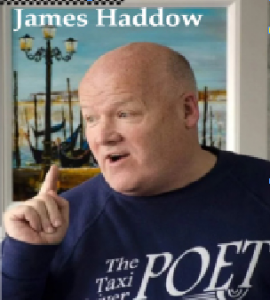 James Haddow is the Taxi Driver Poet and for more than 16 years he was writing and reciting poetry to his passengers, entertaining them with his rhymes on life and love as he drove them around rural Nottinghamshire and Derbyshire.
A seizure forced him to retire from driving in 2013 and he then resettled on the South Coast when love came knocking at his door. James now spends his time writing and performing his poetry whenever and 
wherever he can, reliving his journeys and encounters along the way.
You can expect a light-hearted, casual and comical delivery from James' talk.