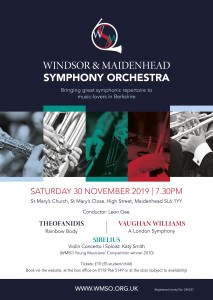 Saturday 30th November 2019 at 7.30pm

THEOFANIDIS - Rainbow Body
SIBELIUS - Violin Concerto
VAUGHAN WILLIAMS - A London Symphony

Violin soloist  - Katy Smith (WMSO Young Musicians' Competition winnner)
Our Autumn concert includes two masterpieces from the early 20th century and one from the 21st century.   Rainbow Body was inspired by the Tibetan Budhhist idea of "rainbow body" wherein the body of an enlightened being is absorbed back into the universe upon his/her death and is woven around a shimmering melody based on "Ave Maria" by the 12th-century medieval mystic, Hildegard of Bingen.  A London Symphony opens with the Westminster chimes and then takes the audience on a musical journey through time via a frolic on Hampstead Heath, Bloomsbury Square on a November afternoon and Westminster Embankment at night before finally leaving London behind and floating down the Thames. Sibelius' violin concerto is an intriguing mixture of northern and southern elements; the violinist's eloquent solo part comes from the warm south, while the orchestral background brings in a cold wind from the north, with both elements combining at the end in a wild dance that only ends with the last, abrupt chord.
Tickets
Adult £15  Student/Child £5
To help cover our ticketing costs, a small booking fee will be applied at checkout
If you have any queries with your online booking or any other ticket-related matter, please call our Box Office (Jackie) on 0118 9665149.