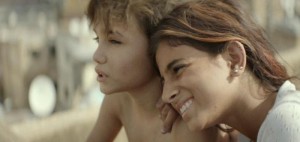 Deservedly boasting Oscar and BAFTA nominations earlier this year for Best Foreign Language Film, Capernaum has been rightly hailed as an instant classic of child's eye drama ranking alongside Slumdog Millionaire, The 400 Blows and The Fallen Idol.

Set amid the lower depths of contemporary Beirut, and directed with documentary-like skill by one of the world's leading women filmmakers, Nadine Labaki, it follows the mixed fortunes of a very savvy 12-year-old street kid Zain (real-life Syrian refugee, Zain Al Rafeea, in an astonishing film debut).

Framed as a courtroom drama in which Zain is suing his parents – the unfolding, sprawling, story is told mostly in flashback as the kid tries to survive using his considerable wits on Beirut's mean streets. There, he befriends an Ethiopian single mother Rahil and her tiny toddler Yonas. When Rahil goes missing, Zain has to become an unlikely surrogate parent in an increasingly dangerous world.

The film's title is, of course, double-edged: it's the French term for chaos but also, perhaps more recognizably, the Biblical town cursed by Christ.
Quentin Falk will, as customary, host the evening.
Tickets: £10