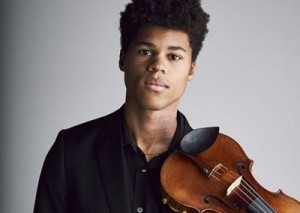 Programme
Beethoven:
Romance in F major 
Beethoven:
Sonata no.9 (Kruetzer/Bridgetower!)      
Interval
Chausson:
Poeme
Tedesco arr Heifetz:
Sea Murmurs
Prokofiev:
2nd Sonata for Violin and Piano  
Hailing from Kenya, Braimah Kanneh-Mason is an exciting and versatile young violinist. Currently in the class of Jack Liebeck, Braimah is a scholarship student at the Royal Academy of Music where he is winner of the Harold Craxton Prize, the John McAslan Prize and the Dame Ruth Railton Chamber Music Prize.
As a soloist, Braimah enjoys regular performances across the UK and has most recently appeared at St. John's Smith Square with the London Contemporary Orchestra, The Royal Concert Hall with the Nottingham Symphony Orchestra and the UK Diversity Legal Awards. He has received masterclass tuition from Priya Mitchell, Tasmin Little and Corey Cervosek.
A member of the award winning Kanneh-Mason Piano Trio, Braimah has performed extensively throughout the UK, Europe, USA and the Caribbean. He has participated in numerous music festivals including Highgate International Chamber Music Festival, Leicester International Chamber Music Festival, The Colour of Music Festival and Barbican Sound Unbound.
Braimah is a passionate advocate for equal opportunity and diversity in music education. He has been a mentor at Sistema England, London Chamber Players and a violin tutor for consecutive years at the Antigua Music Camp. He is currently an artist in residence at Brighton College.
Braimah currently performs on a Jean Baptiste Vuillame, kindly lent to him by the Beare's International Violin Society.