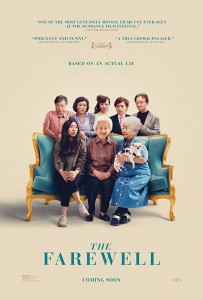 In this funny, uplifting tale based on an actual lie, Chinese-born, US raised, Billi (Golden Globe-winning actress Awkwafina) reluctantly returns to Changchun to find that, although the whole family knows their beloved matriarch Nai-Nai has been given mere weeks to live, they have decided not to tell Nai-Nai herself. 
Gathering under the joyful guise of an expedited wedding, family members now living in new homes across the globe are brought together.  As Billi navigates a minefield of family expectations and proprieties, she discovers there's much to celebrate: the opportunity to rediscover the country she left as a child, her grandmother's wondrous spirit, and the ties that keep on binding even when so much goes unspoken.
With The Farewell(BAFTA nominee for Best Foreign Language Film), writer/director Lulu Wang has created a heartfelt celebration of both the way a family presents itself and how it actually lives as a family, masterfully interweaving a gently humorous depiction of the 'good lie' in action.  It is a richly moving story of how a family can unite and thus be strengthened, often in spite of itself.
2019. 100 Mins. PG.  In English & Chinese (with subtitles)