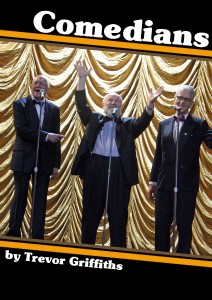 By Trevor Griffiths
First performed in 1975, Trevor Griffiths' ground-breaking play
Comedians
raised important questions about society, the nature of comedy, social class and racial stereotyping. It revealed the disturbing reality behind mainstream comedy which at the time largely consisted of racist and sexist jokes, typified by the hit ITV programme 'The Comedians'. 
Set in a Manchester evening class run by aging ex-music hall comic Eddie Waters, the play follows the progress of six would-be comedians, desperate to make a name for themselves on the professional circuit. They are about to perform at a working men's club in front of an agent who can offer them a way in to fame and fortune. In an era when sexism and racism were the norm, how low will the lads go to win success?
Our production of this astonishing play will be as true to the original performance as we can get. By staging it in this way we will be asking how much attitudes have really changed in the last 43 years.
Please note: The play contains frequent swearing and foul language. It also contains language and attitudes which are now socially unacceptable but were current at the time.
A Workington Playgoers Production - Part of the Season Ticket
Show DetailsPerformance:
7:30pm
Running Time: 
2.5hrs with intermission
Dates: 
Tuesday 15th to Saturday 19th October 2019
Tickets:
Adults £11.50
Concessions £10.50